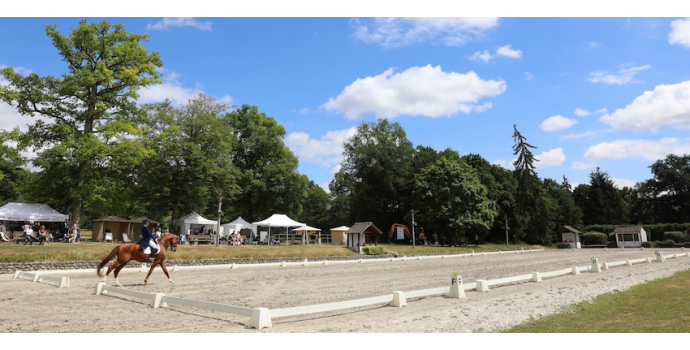 What do I need to film equestrian sports ?

Here it is, you have decided that it was finally your time to enjoy good videos of your lessons, competitions, vlogs or horses' sales… but you are still hesitating : what should you get ? A PIXIO or a PIXEM ?

This post will help you. PIXIO and PIXEM have been designed with riders, so that they can be filmed during their trainings and in most situations. .
The main difference between PIXIO and PIXEM is that PIXIO films with cameras whether PIXEM will film thanks to your smartphones or tablets. With PIXIO you'll need the robot pack, a camera and a tripod. For PIXEM you'll need the robot pack, your smartphones/tablets and a tripod. The tripod needs to have a 3/8" screw. This is standard, in all countries, but most tripods have another standard screw which is 1/4". Some users have a tripod with a 1/4" screw and they add a 1/4"-3/8" adaptor but it is less steady.

If you are looking for a very good quality image, then you might want to go for PIXIO as the camera quality is usually better with cameras.
On the other side if you have a limited budget, then PIXEM might be the best choice for you as it will work with your smartphones/tablets and you won't need to get a camera.

Also note that if you want to use cameras, phones and tablets, you can get the PIXIO and the firmware upgrade that adds all the PIXEM features to PIXIO, without removing anything from the PIXIO.
About PIXIO and PIXEM
With PIXIO and PIXEM, you have the unique performance of radio triangulation techniques: the range, the accuracy, and the smoothness cannot be achieved by any other indoor technology. And it works outdoor exactly the same as indoor, nothing more to learn or to buy.

You can use well-known camera from big brands (SONY & CANON) with the latest features and their unrivalled image quality. This is important to us because image quality is what people really need when they purchase a video equipment.

Basically you will need 1 PIXIO + 1 tripod + 1 camera. Other accessories are not mandatory (raincape, transport bag, elastic armband, etc…).
And you can start filming with your robot cameraman (but read the User Manual first, of course!)

A few more details: The camera needs to have memory. The camera CX450 we propose works with a micro-SD card, we recommend 32GB (160 minutes of Full HD images), it's not included in our packs. It can be found in most supermarkets. This micro-SD card is also used to put new firmwares into PIXIO.

There is a bundle including PIXIO + tripod + camera Sony CX450.
And if you already have a camera and a tripod you can simply purchase the PIXIO robot cameraman.

The CX450/CX455 is a 'middle of the road' model. The CX625/CX675/PJ675 is also a 'middle of the road' model, with an improved image quality and a better steadyshot.
People who want to do professional edits prefer the AX53. The AX53 is also better in low lights. People who want to have a low cost model prefer the CX240. Be careful that the CX240 battery cannot be replaced by a bigger one, it's lifetime is about 1h15 to 1h30. And the CX240 objective does not have a thread so it's not compatible with raincapes. All those camera models have a very good image quality, much better than a smartphone, even 4K smartphones.

The list of supported cameras for the automatic zoom and for the remote control of the 'record' from the watch is here (in the SONY and CANON menus). The JVC, Panasonic, Nikon, GoPro cameras don't have any plug to control their zoom and their 'record'. They will have only the automatic rotations. For some users it's OK, but for others the auto-zoom and the remote control of the record from the watch, or from a smartphone, is interesting. For sport it is usually important. The GoPro cameras can be mounted on PIXIO with their small tripod adaptor.

With PIXEM, you can use most of Android and iOS smartphones and tablets. You can have a look at the list of compatible smartphones on the PIXEM product page. There is another easy way to check the compatibility: if you can see the PIXEM APP in the Google Play Store or iTune and if you can download it, it means your device is compatible!
Unlike PIXIO, PIXEM won't need to be connected to your phone with a cable. It will connect itself to your smartphone/tablet and the free PIXEM APP thanks to the Bluetooth connection.
How long can you film? How can you film all day long?
The PIXIO & PIXEM/beacons/watch battery life is about 2h30 to 3h30. Your Sony or Canon camera may have between 1h15 and 4h depending on its battery.
You can increase the battery life with 4 "power banks": plug them into the PIXIO robot and the beacons, and you can use them during about 5 or 6 hours with 3000mAh power banks, and 10 to 14 hours with 10000mAh. Of course you will need several watches (one is used while the other is charging), and several batteries for the camera.
With PIXEM, it will depend on the autonomy of your smartphone but of course you can also plug a power bank to it to have a longer autonomy.
Do you need some accessories with my PIXIO or PIXEM?
One or several additional watches may be useful for 2 situations:
1. Some coaches need to film several people a few minutes alternatively, and they can manage who is filmed with their smartphone. It is possible to have up to 16 watches. The last one who presses its watch button is tracked and filmed. Or with PIXIO: it is also possible that the coach has the PIXIO REMOTE app on its smartphone, allowing to select who is filmed at any moment.
2. And some users want to film more than the watch battery life (between 2h30 and 3h30) so they have 2 watches, one is charging while the other is used.
https://shop.movensee.com/en/accessories/15-watch.html

The armband is useful to put the tag on the arm, it's more comfortable for some users. It's also very useful for putting the tag on a noseband, on a dog collar, etc.
https://shop.movensee.com/en/accessories/12-elastic-armband.html

The raincape is usefull to protect the robot and the camera from the rain and the dust. It has an optical glass to protect the objective, which is the most sensitive part of the camera. Very few customers have problems with the dust, but it's good to secure peace of mind when investing in excellent cameras.
https://shop.movensee.com/en/accessories/13-46-raincap.html
Can you use PIXIO for online coaching with my coach?
Live coaching is more than live streaming, because you need instant feedback from your coach, and it's not possible with the random delay of most services like Facebook or Youtube (from 10 to 60 seconds). This simple live streaming with delay is possible as with any camera. For example Sony cameras can stream with a WiFi connection to your smartphone and their Ustream partner, and there are a lot of other solutions. For zero delay live coaching with PIXIO, checkout our packs here: https://shop.movensee.com/en/bundles/22-54-pack-pixio-live-coaching.html
Can you use PIXEM for online coaching with my coach?
Yes it's possible to use your PIXEM for live coaching and live streaming.
The first way is to live stream your video on Facebook using the PIXEM app (with a random delay of about 10 to 40 seconds) or use Skype or Facetime (that don't have the automatic zoom and the local recording of the video)
If you want to go for the zero delay version with the automatic zoom and local recording, checkout the presentation at https://tv.movensee.com and add a "live lesson" subscription to your PIXEM + tripod + phone/tablet equipment.

More questions ? Feel free to ask us at contact@movensee.com

Team MOVE'N SEE
Comments
Leave your comment