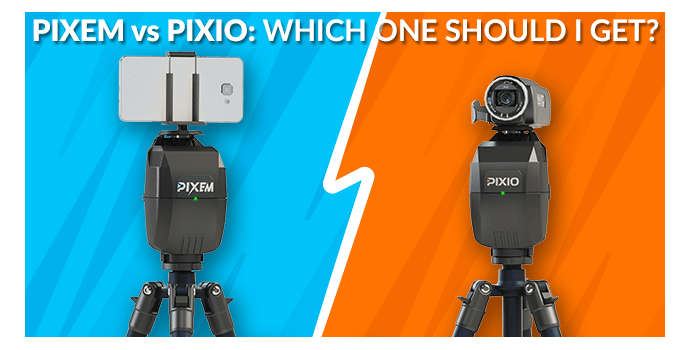 PIXIO or PIXEM: which one should you get?


Here you are! You have finally decided that it was your time to enjoy great videos of your trainings, lessons, competitions, conferences, online courses… but all of this using a Move'N See robot cameraman :-) So you're currently browsing on our website, looking at different products descriptions but not able to make a decision and decide which device is the best for you?

TADAM! We have written this little guide so that you can pick the right device. If you still have any questions after this (but we hope we've made it clear!), do not hesitate to write back at contact@movensee.biz


First thing, you'll need to know is that both robots film and zoom in/out automatically using a watch worn at your arm and with three little beacons setup around the filming area. Both robots will be recording and saving standard video files on your camera or phones that you'll be able to transfer, edit and share as any video file.
1 – PIXIO OR PIXEM: WHICH ONE DOES WHAT? * (check comparison table at the end!)
Short story: PIXIO films with cameras and PIXEM films with smartphones and tablets. And that's it.

Now, let's be a little more precise.
If you use PIXIO with a camera listed on our website, you'll have the automatic tracking, zoom and also the possibility to start and stop record from the watch. But if you use PIXIO with a smartphone or tablet, you'll have the automatic rotation for tracking and not the other features like automatic zoom BUT BUT BUT there is a specific firmware that will allow you to use ALL devices (see below!)*
About PIXEM: It will have the automatic tracking, zoom and record with smartphones and tablets (listed here). If you use PIXEM with a camera, it will only have the automatic tracking because PIXEM is not meant to work with cameras… you've got it.
And that's quite all! Both work indoor and outdoor, have an accurate tracking and automatic zoom features. Pretty cool isn't it?
*But wait, if you want to use both cameras and smartphones/tables : that's possible!
We have thought about our first PIXIO users - and the recent ones as well :-). A new upgrade for PIXIO is available!
Installing this new upgrade on your PIXIO will take a few minutes, and will then allow you to enjoy all PIXEM features on your PIXIO. This means that you'd be able to use cameras, smartphones or tablets to film and to enjoy ALL features on all compatible devices! You'll also need a smartphone holder that you can order on our website.
2 – BUT WHY WOULD I WANT TO USE A SMARTPHONE RATHER THAN A CAMERA OR THE OPPOSITE?
Basically a real camera always has a better image quality than a phone/tablet even 4K models. Especially when zooming. This is because a real camera has an optical zoom, while phones/tablets have a digital zoom.

We have created PIXEM for people who don't have a camera or don't have the budget for one.
Besides that, some people will consider that they'll get a better image quality using a real camera while others will be satisfied with their smartphones or tablets.
Last but not least, it also depends if you feel more comfortable with transferring the video files from the camera to your computer with PIXIO or having them directly saved in your phone/tablet gallery with PIXEM in order to edit or share them later.
3 – ANY DIFFERENCE USING PIXIO OR PIXEM APPART FROM THE DEVICES USED?
PIXIO is connected to your camera with a cable, whereas PIXEM connects to your smartphone/tablet thanks to Bluetooth and functions using our free PIXEM app. Also note that PIXEM comes with an adapter for Smartphone and tablet so you don't have anything to worry about!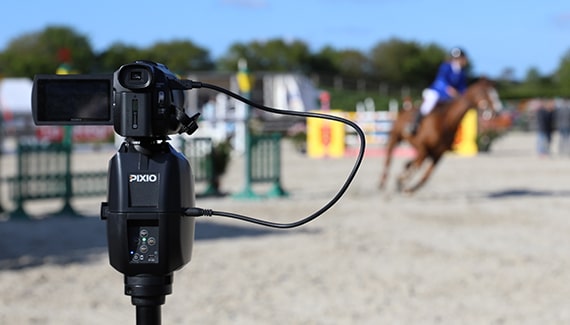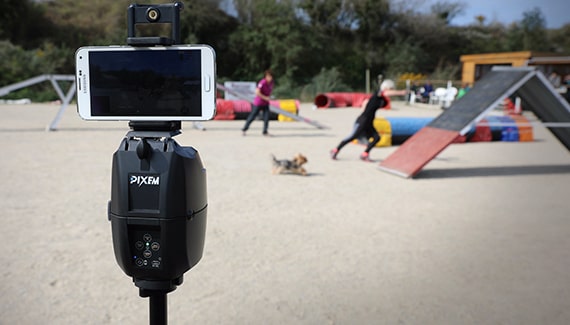 4 – WHAT ABOUT LIVE REMOTE LESSONS WITH MY COACH?
Good news, live coaching is available on both PIXIO and PIXEM! The way it works is simply different.
Option 1:
PIXEM + tripod + your phone/tablet + a "LIVE LESSON" monthly subscription, with or without CeeCoach and our connection cable1.
The phone/tablet needs 4G or WiFi connection to the internet.
Option 2:
PIXIO Live Coaching Pack, with or without CeeCoach and our connection cable.
It works with Skype or FaceTime on a computer close to the robot and camera. So there is no monthly subscription.

The differences are mainly:
- The cost of purchase (less expensive with PIXEM) and the cost of subscription (no subscription cost with PIXIO)
- The image quality (often better with PIXIO and a camera)
- The simplicity/complexity (easier with PIXEM: no computer and no video converter between a camera and a computer).
So… have you made your decision?
Are you going for a PIXIO or a PIXEM? Let us know if you have any comments or questions to share and we'd be happy to help.
Find all links for products here:
PIXIO - PIXEM - UPGRADE FOR PIXIO


TUTORIALS:
PIXIO vs PIXEM comparison
Automatic Zoom

with compatible cameras

with compatible smartphones & tablets
REC from the watch or from the free app

with compatible cameras

with compatible smartphones & tablets
Automatic rotations following the tag

with any camera any smartphone & tablet

with any camera any smartphone & tablet
Live Streaming

Delay of 10 to 40 sec with standard solutions.
Delay of less than 1 second with the live coaching pack

Ultra easy live streaming on Facebook and soon on other social media with a delay of 10 to 40 sec

Take live lessons with zero delay on tv.movensee
Maximum weight of the device on the robot
2kg (better with 1kg for fast rotations)
2kg (better with 1kg for fast rotations)
Multiple robots / Multiple tags
Yes
Yes
Remote controls from a smartphone & tablet
Yes
Yes with the smartphone & tablet mounted on PIXEM
INDOOR range
100m 330ft
100m 330ft
OUTDOOR range
100m 330ft
100m 330ft
Battery life
2h30 to 3h30
2h30 to 3h30
Extended life with power banks
Yes (3000mAh => about 6 hours)
except the tag: it has no plug
Yes (3000mAh => about 6 hours)
except the tag: it has no plug
Can be plugged into the mains outlets
Yes
except the tag: it has no plug
Yes
except the tag: it has no plug
Comments
Leave your comment