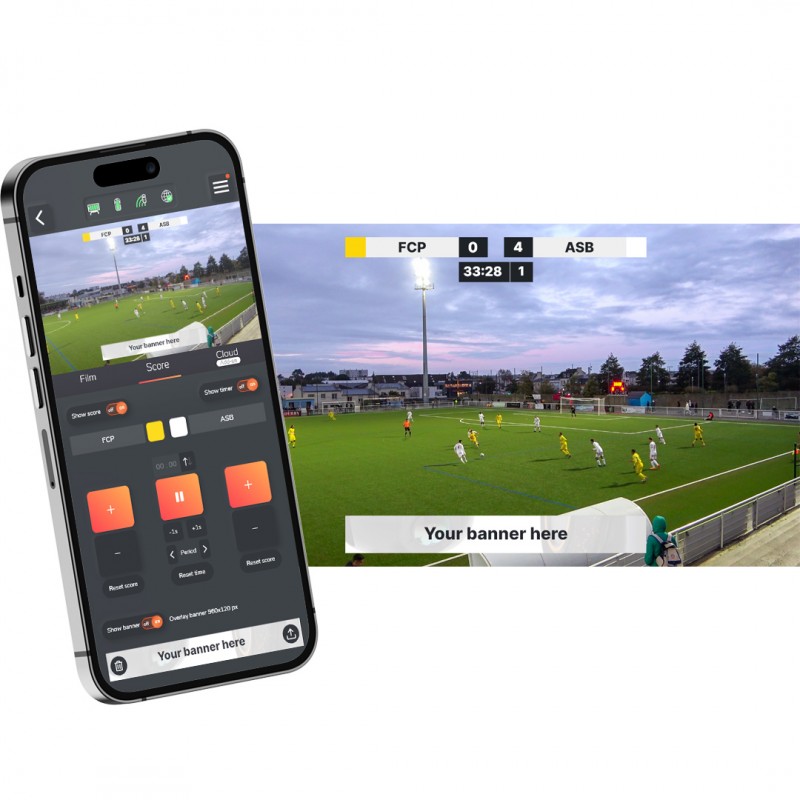  
Add score, game time and an advertisement banner with your sponsor or logo to your videos and PIX4TEAM lives
$/€24.90 excl. tax
per month by paying 1 year in 1 time
or $/€29.00 excl. tax per month by monthly payment
Improve the videos and lives of your PIX4TEAM robot by adding the score, the game time and the period

Customize team names and colors

Increase the visibility of your sponsors by displaying them or showing your logos

Easily manage everything in real time from the PIX4TEAM REMOTE application on your smartphone/tablet

No commitment, unsubscribe whenever you want
How the subscription works:
The functions of this subscription are used in the free application PIX4TEAM REMOTE that you use with your PIX4TEAM robot. The subscription allows you to add the score, the game time and a banner with your logos or sponsors on the videos recorded in your PIX4TEAM robot and on the lives broadcast by it.
Immediately after the purchase of the subscription, you will receive an email containing an activation code. This code, once entered in the PIX4TEAM REMOTE application, allows you to activate these new features on your PIX4TEAM robot. Then, all smartphones and/or tablets using the PIX4TEAM REMOTE application on this robot will be able to benefit from these features. There is no need to buy a new subscription for each smartphone and/or tablet, nor to re-enter this code.
Other advantages:
Automatic renewal every month or every year depending on your choice
Zero commitment, stop the subscription when you want
Secure payment
Specific References
isbn

MNS-SUBSCO01-A