More
video coaching
Improve up to 5 times faster
More
communication
Free streaming and sharing on social media
Filmed by
PIX4TEAM without a cameraman
Left-right, up-down and zoom movements are automatic. Users can choose the zoom level.
And
adapted sports
Filmed with PIX4TEAM
Live stream
for free
PIX4TEAM is the only auto-follow camera to stream
on social media
on streaming plateforms
with our partners and others
on your own website with an RTMP link
Connect the robot to the PIX4TEAM REMOTE app on your smartphone.
From the PIX4TEAM REMOTE app, select the
WiFi
network or shared
4G or 5G
access point on which to connect the robot.
Start and stop the live streaming directly from the PIX4TEAM REMOTE app
Connect the robot to the PIX4TEAM REMOTE app on your smartphone.
Plug the robot to your internet network with an
RJ45 cable (Ethernet)
.
Start and stop the live streaming directly from the PIX4TEAM REMOTE app
Plug your own live streaming tools directly to the HDMI plug of the standard camera on top of the PIX4TEAM, for instance a HDMI to USB video converter that goes to your computer connected to internet. Then use any live streaming service like Youtube, Facebook, Vimeo, etc.
No subscription

required
Film and stream your games without subscription nor additional monthly fee.
Shop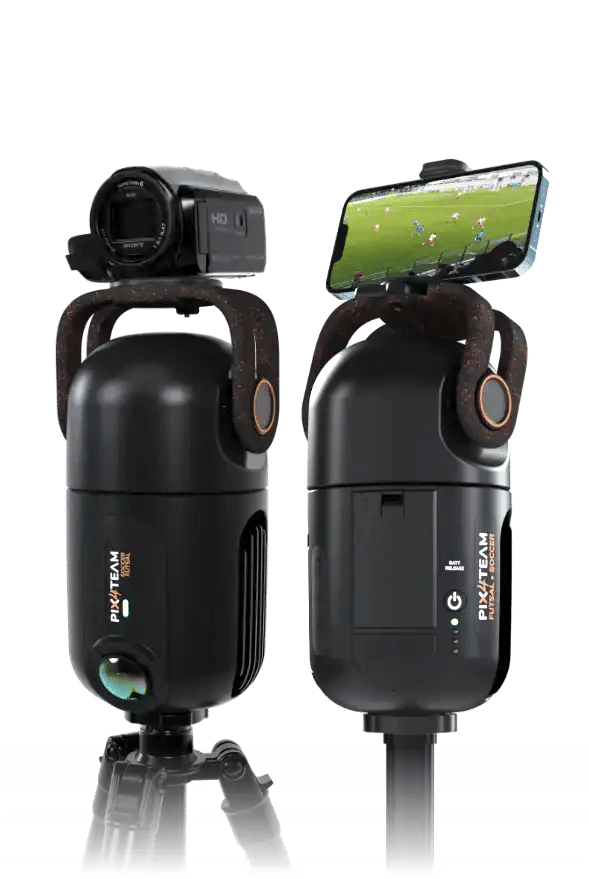 The only auto-follow camera on the market
compatible

with

video-analyzing softwares

!
| | |
| --- | --- |
| Wyscout | |
| Hudl sportcode | |
| Once | |
| Techfoot | |
| Nac sports | |
| Dartfish | |
Get your standard video files recorded on the memory card of your camera or microSD card of the PIX4TEAM (.mp4 format), then import them into your usual video-analyzing software
PIX4TEAM is an open and independent system, without any commercial link with the mentioned softwares
How does it work?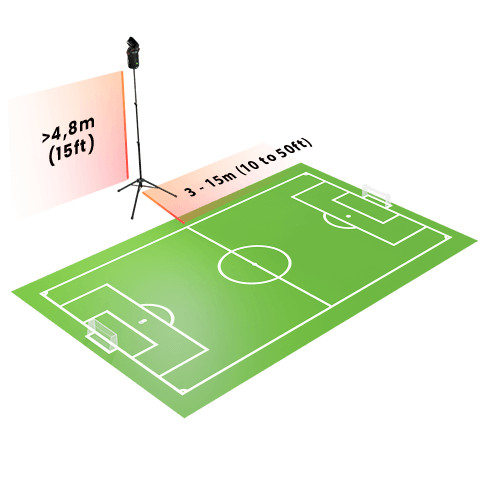 Easy

setup that takes minutes
on a stand at the edge of the field or on a tripod in the bleachers...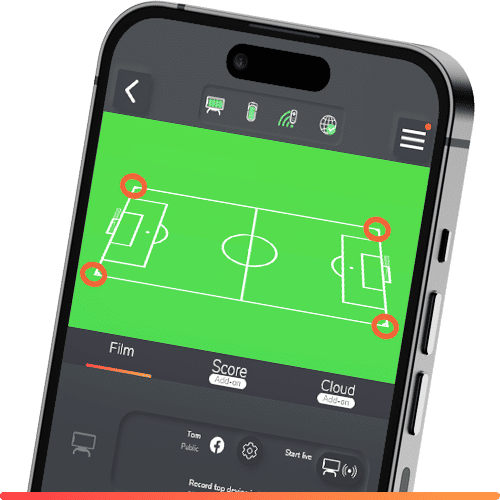 ...define the field limits on the free PIX4TEAM REMOTE app
And start
recording

and/or

streaming

from the app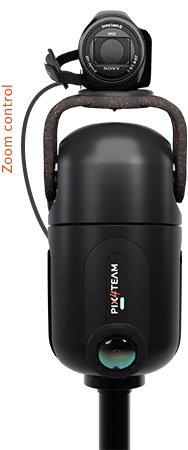 Your own standard camera*...

with real optical zoom

...or your smartphone and tablet

Automatic Pan, Tilt and Zoom

to the playing area

Artificial Intelligence

latest generation determines the playing area to be filmed

180° camera

filming the whole field permanently
* max weight 1.5kg, any brand will have auto Pan and Tilt, more than 100 Sony and Canon models have automatic zoom
---
No tag on players
No beacon around the playground
No cameraman
Only the robot!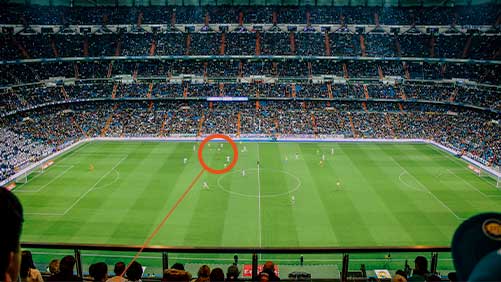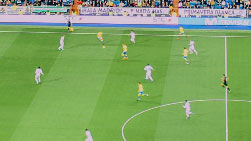 Automatically film your match
Best image quality on the market

with a renowned camera brand of your choice with a real optical zoom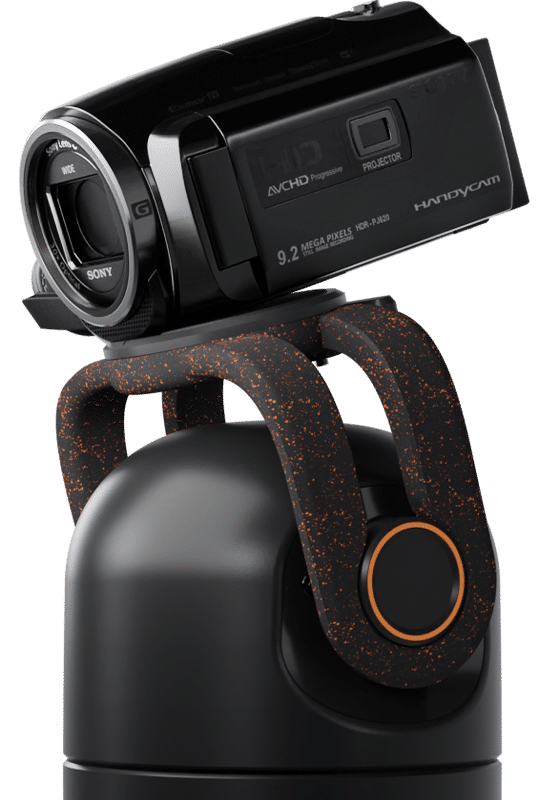 ---
Scoreboard
Add score, game time and an advertisement banner with your sponsors or logos to your videos and PIX4TEAM lives
Susbcribe now
From US$/€24.90 monthly
Improve the videos and lives of your PIX4TEAM robot by adding the score, the game time and the period

Customize team names and colors

Increase the visibility of your sponsors by displaying them or showing your logos

Easily manage everything in real time from the PIX4TEAM REMOTE application on your smartphone/tablet

No commitment, unsubscribe whenever you want
Order now and it's
immediately shipped
Happy or money back
2-year warranty
Immediate shipping
Fast support
Go higher
Which tripod/stand to choose?
Tripod PRO : to film from the bleachers
4,80m (15,6 ft) high heavy stand : the best price to film at the edge of the field
7,30m (24 ft) high heavy stand : the perfect spot to film your games

" We wanted to offer groundbreaking technology with automatic cameras that delivers you from all the expensive competitors with their monthly fees. You can live stream for free with the best image quality on the market, you can use your preferred analysis software. it's a fully open system. "
Eric Willemenot, Move'N See CEO & founder

Improve faster, communicate more
Training partner
MOVE 'N SEE is the training partner of Brest Bretagne Handball, 2021 Europe vice-Champion & France Champion
Frequently Asked Questions
Technical

specifications
In the box
PIX4TEAM robot
Battery offering an autonomy of filming from 2h30 to 3h30
Quick release plate with a 1/4" screw to fix any camera
Holder for smartphones & tablets (less than 11'' screen size)
"Multi" cable for the zoom control of most SONY cameras
Power supply
Link to the user manual

Stand, tripod, battery and camera/phone/tablet must be purchased separetly.
Usage
Indoor & outdoor use
Must be placed on a side of a playing field
Installation height: approx. 4 meters (13 ft) and more above the field
Covers more than 100 x 100 meters (330 x 330 ft)
Power supply
Can be plugged into the mains outlet with a DC Jack plug 19V (provided)

Can be powered by a Li-Ion batteries NP-F970 (6600 mAh, 48.8Wh) and compatible batteries. Autonomy with a NP-F970 battery: 2h30-3h30
Compatible Cameras & Smartphone - tablet
You can use any camera under 1.5kg or any smartphone or tablet to film with your PIX4TEAM robot.

To take advantage of the automatic zoom and remote control of the recording, you must use one of the compatible cameras or use a smartphone / tablet with the free PIX4TEAM CAMERA App

Compatible Cameras
More than 100 SONY and CANON compatible cameras ( see the complete list)

PIX4TEAM CAMERA App
This application, available on iOS 12 and more, soon available on Android, allows you to use your smartphone or tablet to film on your PIX4TEAM robot.

PIX4TEAM REMOTE App
This application allows you to control your PIX4TEAM robot from a smartphone/tablet
Compatible with Android 5 and newer smartphones & tablets equipped with Bluetooth 4 and newer.
Compatible with iPad Air and newer & iPhone 5s and newer
Connectivity
DC jack plug for power supply (19V)
Jack Ø3.5 plug (to control the ZOOM and REC function of the third-party camera)
HDMI input (to received the video from the third-party camera)
RJ45 plug
MicroSD slot for video storage
Mechanical
Size
26 H x 13 L x 13 W (cm)
10.2 H x 5.1 L x 5.1 W (in)

Weight
1.4 kg (3.1 lb)

Max Camera Weight
1.5 kg (3.3 lb)

Max rotation speed
PAN: 120°/s
TILT: 40°/s
Stand & Tripod
You need a tripod or a stand with a 3/8" screw.
Do not use a tripod with a head, because of poor stability (except with high cost tripods!) and because it has a 1/4" screw. If you want to use such a tripod with a 1/4" screw, some small adaptors 1/4 - 3/8 exist.
Automatic zoom
Works with compatible cameras & smartphones / tablets. Fixed otherwise
Video output from the filming device on top of the robot: any resolution including 4K
In real time from the standard camera on top of the robot:
from the HDMI plug of the camera with the resolution from the camera, or
from the RJ45 plug of the robot, and/or
from the WiFi of the robot

whatever the previous 3 options, possibility to have the video in real time on any open live streaming service, including the MOVE 'N SEE service.

In real time from a phone/tablet on the robot:
Via WiFi or phone network, on the live streaming service from MOVE 'N SEE.

Not in real time:
from the internal memory, or (micro-)SD cards you may include in the camera/phone/tablet, or
from the micro-SD card you may include in the robot dedicated slot (and connect the HDMI plug of the camera to the HDMI input of the robot).
Video output from the 180° camera at the bottom of the robot:
Image sensor: CMOS, 5.1 MP, 1/2.5"
Video output in real time: RJ45 or WiFi
Video storage: on a microSD card (not provided) that you put in the robot. UHS-I Class 3 (U3) required, 32GB or more recommended
Transport
Designed to be very easy to pack and to take with you everywhere. In any standard photo bag >
40 x 30 x 20 cm (16 x 12 x 8 in)
Warranty & Refund policy
Warranty
2-years worldwide warranty

Refund policy
30 days after delivery, you can return the product (ask a RMA document to the support team) and have a full refund except the shipping costs
Free

&

responsive

customer support
More questions? Contact us by email, phone or videocall
Contact us