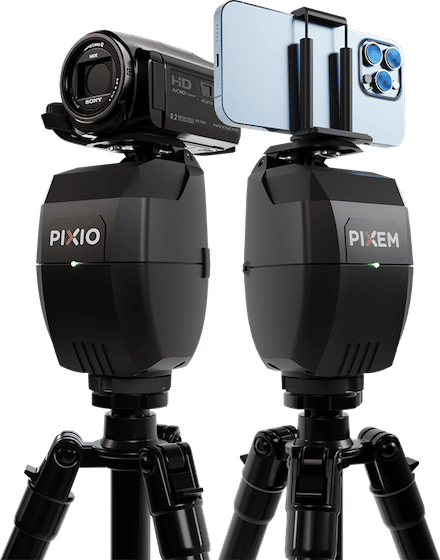 Auto-follow cameras for individual sports and stage
Horse riding . Conference . Agility . Pastor . Ice skating . Athletics . Etc.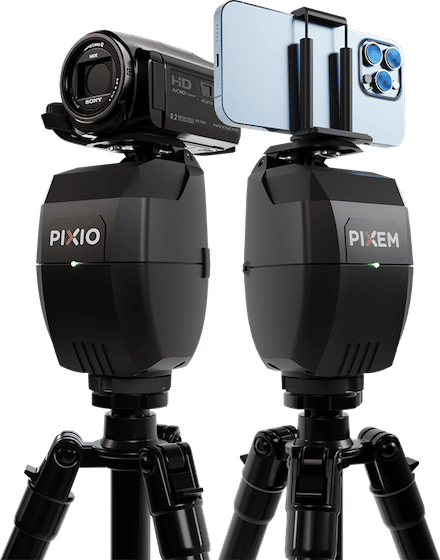 Film individual sports and stage with

#HORSES #SPEAKERS #AGILITY #SPORTS #ENTERTAINMENT #ICE SKATING #TRACK & FIELD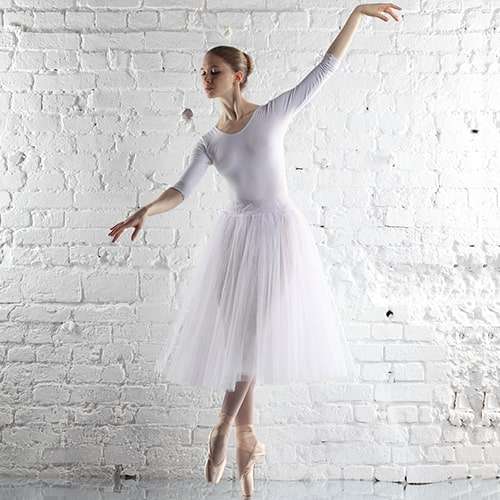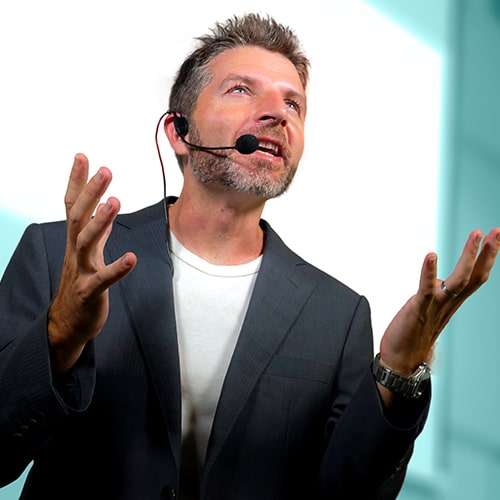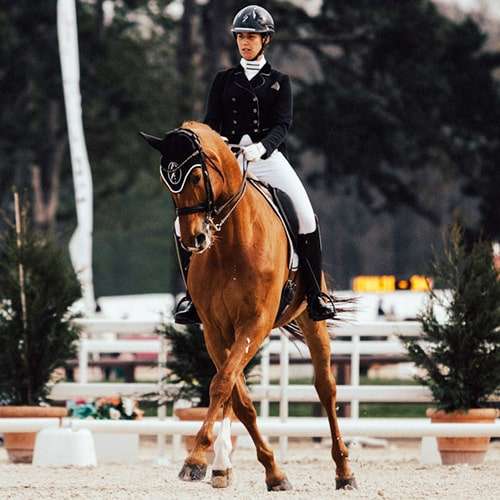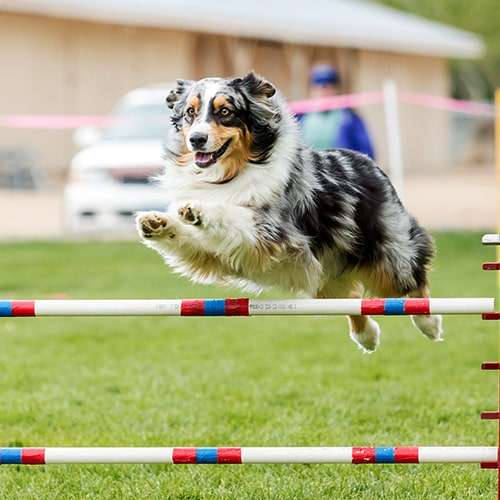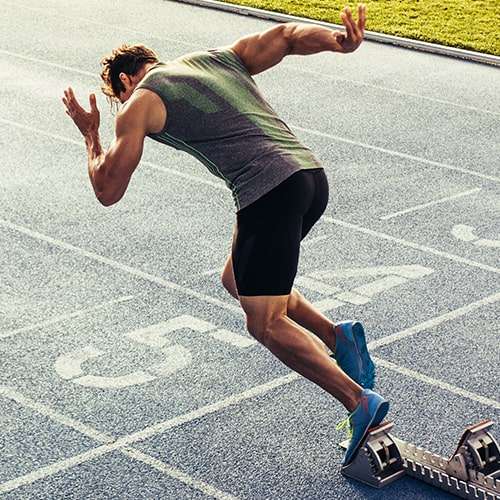 Enjoy the unrivalled range and accuracy of PIXIO and PIXEM that no other indoor technology can achieve!
robot cameraman


Key features
Indoor and outdoor tracking
Range of 330ft / 100 meters
Designed for your smartphone and tablet, even 4k models
Automatic ZOOM of your smartphone and tablet
Ultra easy live streaming with the free MOVE 'N APP
Proven technology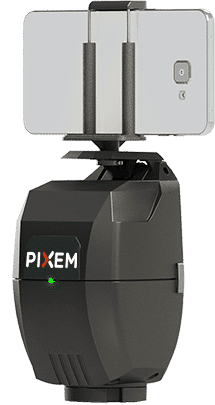 robot cameraman



Key features
Indoor and outdoor tracking
Range of 330ft / 100 meters
Designed for your third party camera (SONY, CANON)
Tight automatic ZOOM capability
Live streaming capability
Proven technology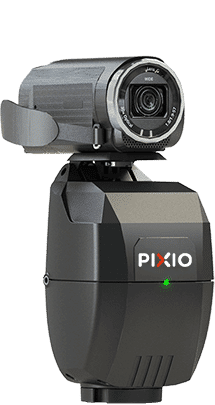 So easy to use!

Wear the watch on the wrist, arm or pocket: the robot tracks you automatically!
Start/stop the record from the watch. No calibration time.
Just enjoy the video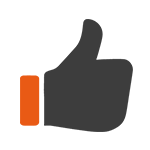 Happy or money back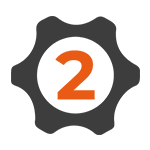 2-year warranty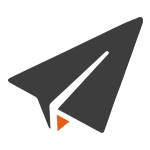 Same day or next day shipping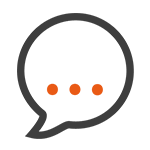 Fast support

Robots Cameramen Key Points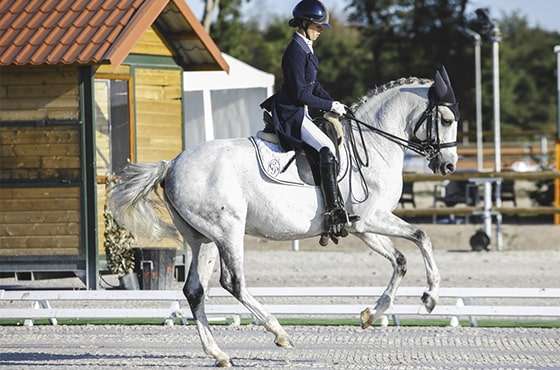 The only robots working both INDOOR & OUTDOOR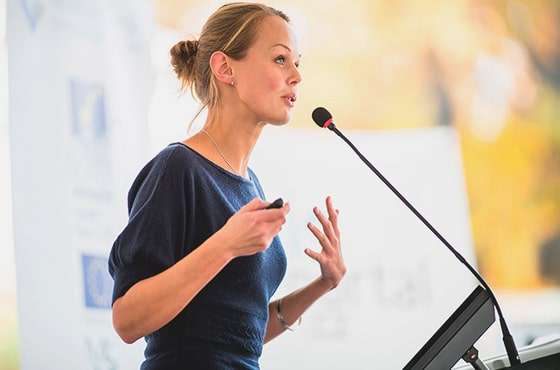 Automatic Tracking & Zoom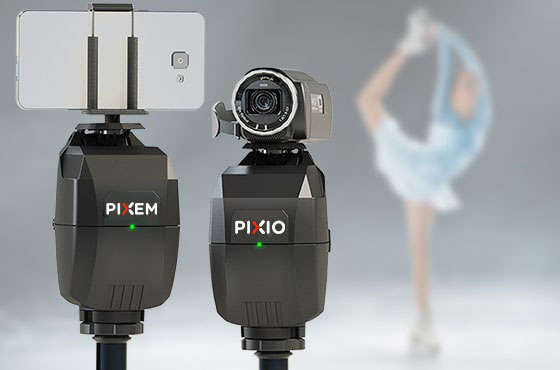 Compatible with third party camera or smartphone & tablet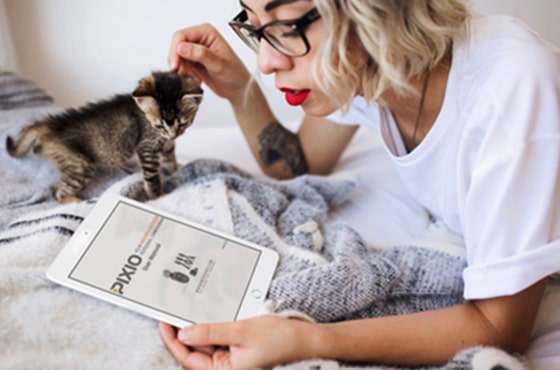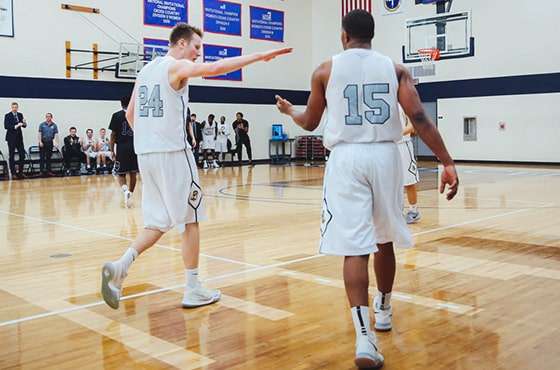 Multi robots - Multi people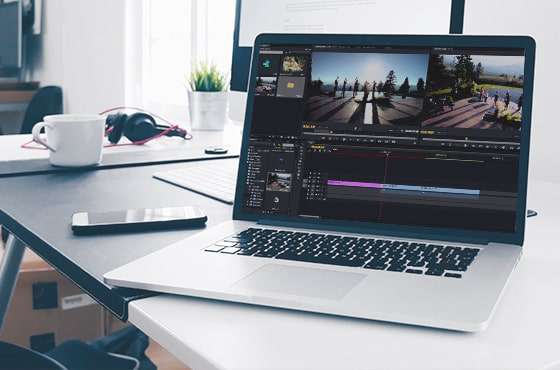 PIXIO and PIXEM robots
Immediate shipping, delivery in 2 to 5 days
PIXIO and PIXEM bundles
Immediate shipping, delivery in 2 to 5 days
Pack PIXEM for SPEAKERS
You give sermons, conferences, online courses or produce YouTube videos...
Make your videos more dynamic and attractive thanks to the pack PIXEM for SPEAKERS!

No more boring static videos, thanks to the PIXEM robot that follows your movements on stage!
Enjoy a clear and professional recording of your voice with the RØDE microphone
SPORT: LIVE LESSON & LIVE COACHING
There are 2 options for live training though internet (more details in the product webpages).
What do I need to take remote lessons?
Option 1:
PIXEM + tripod + your phone/tablet + a "LIVE LESSON" monthly subscription 2 , with or without CeeCoach and our connection cable 1 .
The phone/tablet needs 4G or WiFi connection to the internet.

Option 2:
"PIXIO Live Coaching Pack", with or without CeeCoach and our connection cable 1
It works with Skype or FaceTime on a computer close to the robot and camera. So there is no monthly subscription.

The differences are mainly:
The cost of purchase (less expensive with PIXEM because you don't need to purchase a camera) and the cost of subscription (no subscription cost with PIXIO)
The image quality (often better with PIXIO and a camera)
The simplicity/complexity (easier with PIXEM: no computer connected to internet and no video converter between a camera and a computer).

The best thing before purchasing is to test your internet speed: just make a Skype or FaceTime video call with your coach with the connection you intend to use, and the coach will tell you if the video is steady or not. There are also figures, but the test is much better than figures:
Upload and download speed of about 0.5MBPS: Low Quality
Upload and download speed of about 1MBPS: Medium Quality
Upload and download speed of about 3MBPS: High Quality
---


1 With PIXEM and PIXIO, there are 2 options for the voice feedback: a standard phone call (the rider must have a phone in his pocket and a headset), or with a CeeCoach Duo Kit and our special connection cable between the CeeCoach and the phone.
2 Because Skype and Facetime on a phone/tablet do not accept the video with auto-zoom from the MOVE 'N APP.

The CeeCoach allows to have a voice feedback when doing live lessons through the internet.
One is with the rider, and the other one is close to the computer/phone/tablet. It must be connected to the computer/phone/tablet with the connection cable (link here).
And with recent iPhones it is necessary to have this kind of "Jack 3.5 - lightning adaptor" as well.
PIXIO and PIXEM Accessories
Stories from our customers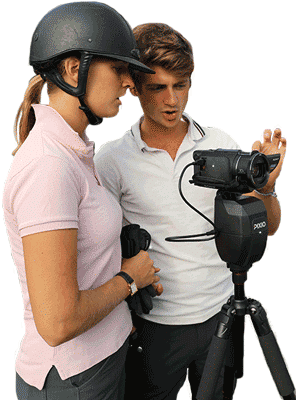 Pamfou-dressage team,
International riders and 5* international judge

Filming our riding sessions has now become surprisingly easy thanks to PIXIO and has helped us in many ways: filming our horses for sale, witness the horses' progresses, boost our social media and much more!

The incredible accuracy of the PIXIO tracking allows the tight zoom level we need to clearly see the hands, the feet, and the overall posture. Having a third party camera is also essential to us, both for image quality (in low light, or in the backlight for instance) and device reliability reasons. Another point which has a huge importance for us: it works both indoors and outdoors, covering the whole arena.

Suzie HALLE, Dressage, USA

Before PIXIO, I had a still camera. It was difficult to see particular aspects of the riding. With PIXIO, I stay in the frame, it zooms IN and OUT, so I'm able to see every step very clearly.

Jarek Ostaszewski, Vlogger, Poland

I use PIXIO to film parts of my professional VLOGs about woodwork. I'm walking around in my workshop, and PIXIO is filming me!

Open Heavens Church, Texas USA

Pixio has become the most consistent part of our weekly productions. The setup couldn't be easier.

Nuno Avelar, Working Equitation, Germany
Nuno Avelar's team became World Champion of Working equitation and PIXIO was part of his training:

PIXIO was a major help for my training! To reach such a goal, it's important to be able to see your own mistakes while training and PIXIO automatic filming and zooming features made a great job on this!

Linda Köhler, Agility, Germany

I love to use Pixio Cameraman during Agility training. It's a perfect way to have great video material for a detailed analysis of my agility sessions and no-one has to be around to film because I have Pixio.

Justyna Plutowska & Jérémie Flemin, International Ice Dance Couple

PIXEM follows you automatically. Zoom is pretty cool. That is super helpful!

Conan T., AIKIDO coaching, UK

I think many Aikidoka will like your system. :) thank you for designing a great system!

Tess MERTENS, International Dressage Amazone, Belgium

I'm an International dressage amazone. Daily training with PIXIO gives me great insight of all exercises and improves my performance. The quality of the PIXIO is impressive. It follows you very precise, zooms in and out flawless and films very steady. I use PIXIO when I train by myself or when I follow lessons with my coach. I'm no longer dependent on a cameraman and have steady shots all the time!

Jessica NORDIN, Vena Dressyrcenter, Sweden

We just love our PIXIO Live Coaching Pack!! Several times a week we have training sessions between Great Britain and Sweden. What a difference from when we had to fly our trainer here.

Catherine HENRIQUET, Dressage FRANCE Champion

Images of rare quality !

Mary Jayne Durham, Eventing, USA

I've had mine for almost a year. The product is great and the customer service is amazing. (And no, I'm not a paid spokesperson for the company)

Xavier Chamant, Show Jumping, France

Very good frame!! Very silent motor!! Very smooth and accurate tracking!!

Vickie Argals, Flying Colours Stables, Canada

Oh how I love Wednesdays Pixio Skype lessons

Romy HUISMAN, Equestrian Vlogger, Netherlands

I got a PIXIO !!

Tim RIGDON, Pastor, USA

We are grateful for using this product for our purposes in our church. Our pastor is part horse and moves all the time and does not stay still!

Jean-Philippe GIACOMINI, International Dressage Coach, France

I have been traveling the world for years to give Dressage lessons. Thanks to the PIXIO robot with Live Coaching, I can multiply my number of lessons, while greatly reducing costs.